WHAT OUR CLIENTS SAY ABOUT US
Client testimonial B. Barrows
We are very happy to have selected Exclusive Residence to build our custom home.
We wanted to build a unique custom home that was going to be here for the longevity of our family.
Melinda and I wanted a mid-century modern look, with a resort style feel where we can sit down and entertain while watching our family play out in the pool and around the back yard all from the elevated kitchen and open plan living area. The flow of the home from the front door through to the back-resort style pool and landscaped yard with a cabana is just what we envisioned.
We are extremely pleased with the finished product and the seamless building process through construction with John and his team was a dream.
Exclusive Residence are a highly professional outfit that John coordinates. I would recommend anyone wanting to design and build a custom quality home to speak with the team at Exclusive Residence and engage them to build your dream home.
Strong Communication, time management and attention to detail were all performed to perfection and we are grateful to the team at Exclusive Residence who delivered us a very high-quality end finished product. Both of us are delighted with our home.
Thank you Brendan and Melinda Barrows.
Having two young children and both working, my wife and I were skeptical of taking on a large building project. After spending money to have an architect draw plans up that didn't really represent what we asked for and then being let down by multiple builders not turning up or not following through with quotes, we had decided to live in our property as it was.
We then went to see the Exclusive Residence display home and met John and his team. Instantly they stood out to us, not only for the quality of the home they had built, but the honest feedback they gave about what we should do with our property – something we had previously sought but never got. After a few discussions and having initial plans drawn up we decided to progress with the build and are extremely happy we did so.
Our new double story home was built in an unbelievable 8 months and the quality is fantastic. The site manager Rick was meticulous and gave excellent advice all through the build, the attention to detail was second-to-none and the team were very respectful to our neighbours during construction and the site was always neat and organised. The process was painless, and the level of professionalism was incredible right from our initial consultation to the day of final inspection and handover, it really didn't feel like we were dealing with the building trade we had previously experienced.
We are truly grateful for the home Exclusive Residence have created for our family and are so pleased we trusted them when we had almost given up.
Dave Noblett
Exclusive Residence have recently completed a new build for us in Swanbourne & we are extremely happy with the outcome. John & his team did a fantastic job with the house, including excellent management of the budget & schedule, completing the house in under 12 months. We found John & his entire team professional & courteous throughout the project & the quality of the build, fit & finish is exemplary.John was extremely thorough & approachable; he was always on hand to answer any questions or concerns we had. I would not hesitate to recommend this award winning builder to anyone wanting to build a quality home & I will definitely be using John again.
Neville & Esther Son Hing, Swanbourne
Stunning service & even better result!
John, we want to thank you for your very professional building. We are feeling rather spoilt to be indulging in our marvelous new space. It has achieved everything that we hoped for and more. Indeed, we used it last night with our fam! We are so impressed John. So many thanks!!
Di & Graeme Linfoot, Dalkeith
Thank you for the time and effort you and your dedicated staff put into our amazing house. Your meticulous attention to detail, not to mention the speed in which the house was constructed was a great surprise to us. Moving in to a three level home with in 10 and a half months since starting construction was truly amazing.
We felt the tradesman (or craftsman as Kate calls them), were of the highest possible standard and always helpful in terms of giving us the client exactly what we wanted. Being on the river we wanted a house that we would be proud of and of a high standard and that's what we have thanks to you. Making our selections up front also allowed us to enjoy the process as we revelled in the installation of all our selections and decisions.
We have a lot of friends who have built with other companies, with some horror stories, however we really enjoyed the process and would have no hesitation in building again with you or highly recommending you to our family and friends. Important to us also was the professionalism you showed and your integrity in completing our Casa Del Smyth.
Yours sincerely and many thanks
David and Kate Smyth
We would like to say a very big thank you to you and your team for the timely construction of our new home.
As this was the first home we have built, we thought it would be quite a daunting, slow and tedious process. However, after the initial inspections of one of your display homes, to the follow up discussions with your sales team and staff we decided on Exclusive to build our home. We were told at the outset that the house could be built within 12 months and from what we had heard from friends of their experiences with building a house, we had doubts it could be achieved. Looking back, all the prior planning, selection process and advice from you and your team paid dividends.
The building started on schedule and it is a credit to you and your quality trades people that we moved in within 11 months. The house has turned out exactly as we hoped and the finish and quality is superb. We would also like to make a special thanks to your painter, tiler and cabinet maker for the attention to detail and quality. A special thank you to you for your professionalism, support and advice in making our dream come true. We would have no hesitation in highly recommending Exclusive Residence to other potential home builders and perhaps one day we may even build again with Exclusive.
Thanks again from myself, Jen and the three kids – we all love our Exclusive home.
Wade and Jennifer Johnson
We are extremely pleased with our home! Exclusive Residence was our only choice after considering other builders. Exclusive Residence turned our property into paradise. The craftsmanship is like no other home we have ever seen . From start to finish, their products, patience and professionalism transformed our dream into a reality. We absolutely love our home.
The staff in the office, their contractors and the crew did a magnificent job! If there were any questions or concerns, they were handled in a professional manner and the matter was readily solved. Our home is everything we wanted.
A special thanks to John Douglas, we could not ask for a better builder to walk us through a life altering change. From start to finish, John made us feel there was nothing he wouldn't do. For all the last minute changes and countless questions, he never made us feel like we were a bother. It is refreshing to see a company with such good people and ethics. Thank you for treating us right. We are forever grateful.
We would recommend John and the team at Exclusive Residence to anyone who asks us. Thank you so much for everything.
Tony and Felicia Castrianni
As professionals with a very busy lifestyle, we wanted a builder who can deliver quality in a reasonable time and to build at a fair agreed price. We were introduced to Exclusive Residence by mutual friends. After a few meetings we decided Exclusive Residence was going to build our new home. After meeting the estate covenant requirements and local council requirements Exclusive Residence was in full gear.
During the construction we found the whole team at Exclusive Residence to be nothing less than perfectionist themselves. Under the direction of John Douglas and our supervisor Rick Gorton, their strive for excellence was obvious. When it came time for handover there were only a few items that need to be attended to. Most of these items were already in motion. Exclusive did the best to always make sure the tradesmen finished the job properly the first time. It was very obvious to us the pride that John and the team have for their clients as well as for themselves.
In some situations Exclusive Residence took it upon their own to make whatever changes they felt was necessary to improve the overall quality and look of our home towards a particular finished product. And that's what we call… quality of service. We were told our house will be ready in late March, early April. When we returned home after Christmas in late January we were advised our house would be completed in just a few weeks.
Still to date we have friends, neighbours, delivery people and even tradesmen compliment the high level of finish to our home.
Not only was it built with at such a high standard, amazingly it was built within 12 months. We would also like to acknowledge the specific efforts of your supervisor Rick who has clearly gone over and beyond, to make the building of our new home with Exclusive Residence a memorable one.
Thank you.
Dr's Paul and Natasha Bruno
Having now been living in a new home for three months we would like to take this opportunity to express our delight and pleasure that this beautiful house gives our family. The process that Exclusive Residence adopts in building a house suited our needs to busy lifestyles perfectly. The preplanning and decision-making that is completed prior to the commencement of the building process made the whole experience much easier and much less stressful than previous experiences.
John, we would like personally like to thank you in particular for your hard work, honesty, forethought and integrity. In our experience this is not always the case and we both appreciated your input and guidance, your attention to detail and mostly your unwillingness to accept anything less than the best in standards.
The scheduling and coordinating of the tradespeople must be a nightmare but this was achieved with great efficiency and allowed us to move into our home on time without compromising on quality and finishes. Thank you and thank you to your team at Exclusive Residence. We love our home and look forward to many happy memories of family times created in these lovely surrounds.
Best wishes for the future.
Sue and Brendan Adler
Linda and I would like to express our satisfaction at the level of professional service and workmanship we have received from Exclusive Residence in the construction of our new home in Mount Pleasant.
From the start of construction the planning, organisation and the quality of trades supplied has been first class. The house has been completed in less than 12 months with no compromise on the quality of workmanship the attention to detail has also been excellent.
Exclusive's "S2F" start to finish process, in particular the selection system of all fixtures and colour selections prior to the start of construction with the help of your interior designer, was of great assistance which contributed to the completion date, and prevented any potential delays. We are very pleased with our new home and would be more than happy to recommend the quality of service supplied by Exclusive Residence to any potential house builder.
Linda and Gerard Doyle
Finally a BIG thank you for a great and extremely timely job on our home. It's hard to believe that handover was six months ago. It's even more amazing when I think that had we used any other builder we would be lucky if we were just starting to get organised to move into our home.
Thanks also for handling the maintenance issues so timely. From experiences my friends have had, maintenance issues can cause all sorts of ongoing grief for owners. Look forward to building with you again should the need/desire arise. Thanks also to the guys on the job, particularly our supervisor Rick and your skilled tradesmen. They were always a pleasure to deal with.
Joy Crocker and Michael Bisset
It is with genuine pleasure and satisfaction that we recommend Exclusive Residence to you. We have been working with John Douglas over the past three years regarding some building defect issues we had on our property from a previous builder. The standard of work, time and care taken on our property was well above our expectations. John coordinated our contractors well within the timeframe allowed, in fact completed works ahead of schedule. It was always a pleasure to work with John. His care, attention to detail and ability to follow up and resolve issues on our behalf were nothing short of outstanding. As a result we felt 100 percent confident throughout the entire process that we had the right person for this job. John, you are dedicated to doing a quality job and the workmanship was outstanding. We want to thank you for your willingness to meet us on many occasions over the past three years to complete our rebuild. The results speak for themselves. We can confidently recommend John at Exclusive Residence as a solid and reliable Builder. D Butterfield & M Snell
We wish to express our thanks to you and your team at Exclusive for an outstanding job.
Having built homes on prior occasions in our capacity as commercial landowners, we have had extensive experience with building. You and your team made this building process seamless and the end result is outstanding.
We appreciated the efficiency of your tradespeople when any minor items required attention and the overall thoughtfulness in regards to keeping the site clean and organised. Your concentration on the details of the project has insured that this home is of the highest quality and we wouldn't hesitate to recommend Exclusive Residence to others wishing to build residential projects.
Once again many thanks from all at Automotive Properties.
MV Prater
We would like to express our sincere appreciation for the way which Exclusive Residence, under your direction, has built our home. When we were given an indication back in January that we may well be in our new home for Christmas, we thought that this would be "nigh impossible" given the average time to build a two story residence seems to be two years in this current climate.
You can imagine our absolute delight to now be moving into our home 10 days before Christmas. To have built our home in just over 10 months and to have completed it to such a high standard of finish is testament to your organisational skills and your personal undertaking to build a home of excellent quality. We would like to specifically mention your attention to the finest details; the way in which the construction and delivery of goods flowed so smoothly, and the meticulous way in which the building site was kept. As the year went by such professionalism instilled great confidence in us so as to conclude that we had chosen the right builder for the job!
We would also like to commend your office staff and particularly your site supervisor Rick Gorton who have all provided service at the most professional levels. Rick's work ethic is to be commended. We wish you and your company all the very best for the future and look forward to seeing the Exclusive Residence sign on many more blocks of land around Perth and further afield. Your reputation as an excellent builder will no doubt precede you.
With best wishes, yours sincerely
John and Sally Orr
I would like to thank you and your wonderful team at Exclusive Residence. We're delighted with our new home. It has been completed in record time and is exactly what we expected it to be. From the first meeting I feel confident that building with Exclusive would provide the house we envisaged. This is the first house we have built and I can say the experience has been wonderful.
We approached you with our requirements and budget and with the help of your architect came up with a design. Your advice, flexibility and attention to detail was fantastic. I would have no hesitation in recommending Exclusive Residence to others considering building a home. I would like to especially thank our supervisor who was always able to answer our queries and did this with patience and professionalism. I know we were very lucky to have him as a supervisor.
Thank you once again and I wish you and your team every success in the future.
Anne and Kevin Toland
Letter From Attorney General (Minister For Commerce)
I would like to extend my congratulations to Exclusive Residence for winning the 2017 'Best Alterations and Additions' – Over $750,000′, 'Best Alterations and Additions', and 'Best Contract Home – $850,000 – $1,000,000' at the 2017 Masters Builders-Bankwest Housing Excellence Awards. It was extremely pleasing to witness the quality of the building work and projects currently being undertaken in Western Australia and to see excellence and stand out performances in the industry being recognised.
An innovative and productive building industry is high on the State Government's list of priorities, important both to the people of Western Australia and the State's growth and long term development.
I thank you for your effort and outstanding contribution to this industry.
Hon. Michael Mischin MLC
Attorney General; Minister For Commerce
Experienced, Professional, Transparent
As a highly awarded and recognised luxury home builder in Perth, we are here to work with people who are at a certain stage in their lives, either financially, or in terms of the lifestyle they want to live.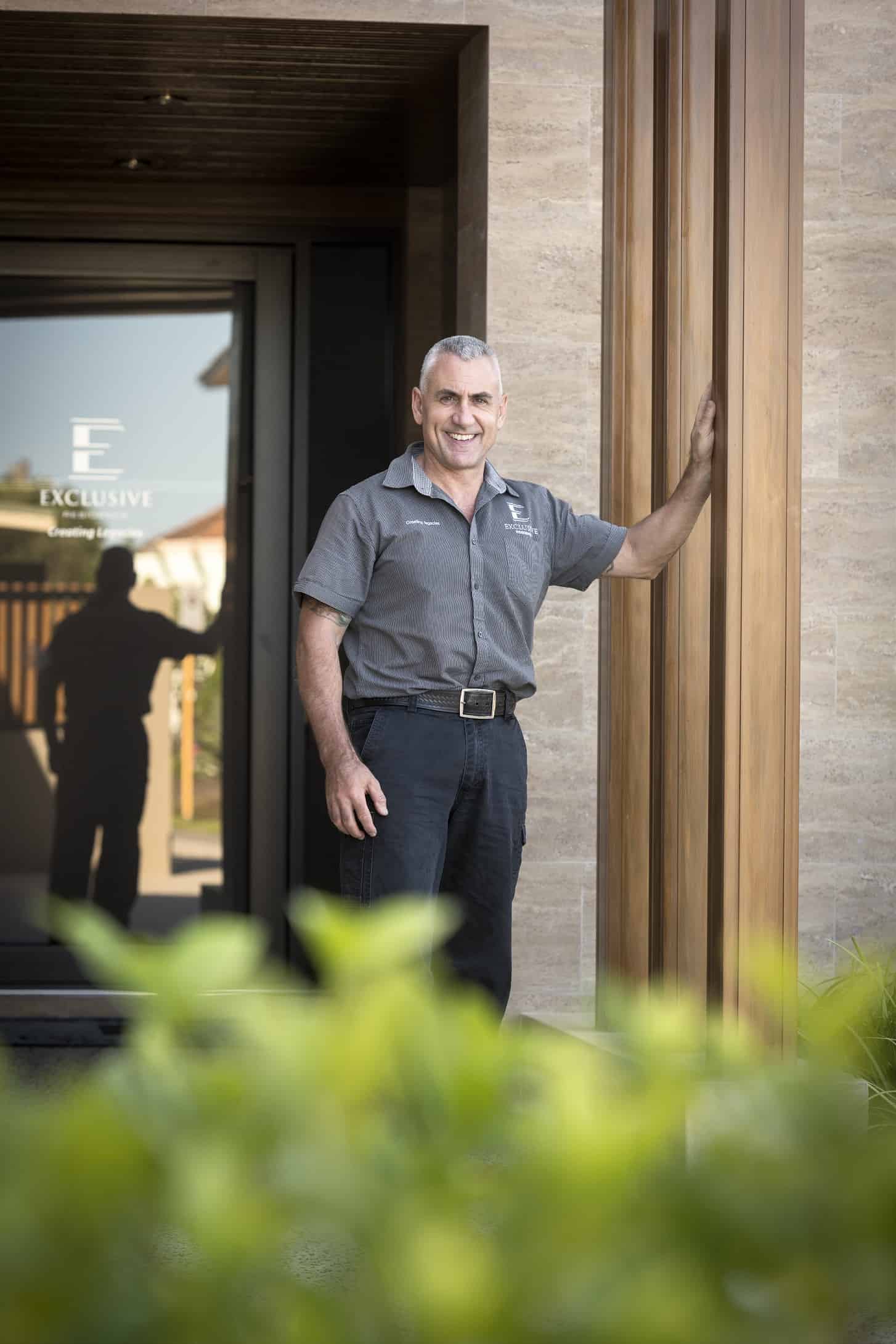 "Communication is a strong point at Exclusive Residence. We make sure we have everything we need from the beginning. We want you to be informed, confident and relaxed in the knowledge that your home is being built the way you want it."
Timing, budget & luxury
When you decide to build your luxury home in Perth, you will have many things on your mind including translating your vision into a beautifully designed, functional home plus timing, budget and a certain level of style and luxury.
You want to complete your project within a certain time frame and budget. These factors are central to any new home, and vitally important to our team. You don't have time to waste, you want premium design concepts and finishes, and you want to be energy-efficient and environmentally friendly too.
Some builders would say they can deliver a home quickly. Exclusive Residence goes one step further. We commit to a 12-month timeframe, from earthworks to completion and this is unprecedented in Perth.
Owner and Master Builder John Douglas takes personal interest and involvement in every home built by Exclusive Residence to ensure this promise is upheld.
Legacy & heritage
At Exclusive Residence, we all believe that deciding who will design and build your dream home is a significant decision, right up there with your education, career, marriage and children.
We understand that, and our understanding comes from Master Builder and Director, John Douglas. John comes from a family of committed, boutique builders in Western Australia, with a heritage and legacy in building that goes back over 120 years.
John understands what it takes to deliver a luxury home that exceeds expectations, and he has built a team dedicated to making that process controlled, efficient, and enjoyable for every person we build with.
John and his team will walk you through the entire process, ensuring you receive a premium service defined by creative and award winning design, the highest build quality and well controlled and proven build processes.
Communication & freedom
We understand that between your career, family and daily life, you don't have time to consider every decision that goes into a home. With a luxury custom home, you should be free to enjoy the excitement and anticipation, without worrying about the details. This is the freedom our process gives you.
We have the experience to take the lead and ensure your home is built according to your concept and design inspirations. At the same time, we recognise that people want to understand the process and be informed.
At Exclusive Residence, we strike a balance to give you the information you need to stay informed, while avoiding excessive communication that wastes time and energy.
To make it easy for you to track progress, we give you access to a dedicated online portal with weekly updates including photographs of the construction process and progress reports. Your personal construction contact will also send updates via SMS and email, so you are always in touch with the latest developments.
Of course you'll want progress reports so that you know everything is going to plan. We take care of this by providing you with a dedicated portal through our website with weekly updates, which include photographs of the construction process as well as progress reports. Your personal construction liaison will also provide information via SMS and email, so you are always up-to-speed with the latest developments.
After 25 years building Luxury custom homes of all sizes and budgets, we have refined a formula of "Speed, Quality, Value and Service", which is setting the standard for this and other generations to come.